C211 litter Joey's Web Page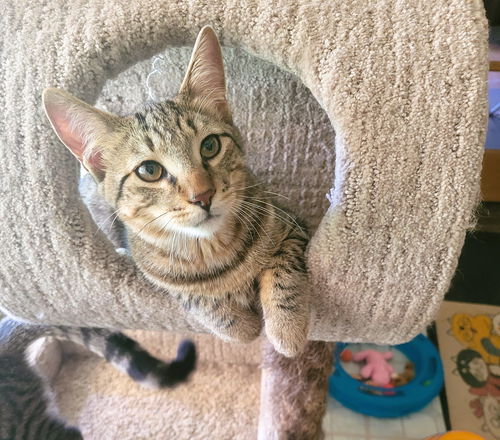 I would love you more than you can imagine.
Please adopt me!
Breed:
Domestic Short Hair / Tabby / Mixed
Current Age:
1 Year 1 Month (best estimate)
Indoor or Outdoor:
Indoor Only
Description:
This is Joey, brother to Jennie.
He's a very affectionate loving little boy! He craves pets, hugs and kisses and gives them back! He's very playfull and full of energy! He loves playing with other kitties and his toys! He Loves playing with his ball track tower, running thru the krinkle tunnel, and anxiously awaits for his kitty treats! When hes finally all worn out , youll find him taking an afternoon naps on the highest point of his his cat condo. He's a handsome lil boy with a matching sweet personality!
HDDCR requires a spay/neuter contract by the adopter if puppies and kittens in our care are too young for sterilization. This is a form the adopter signs at the time of adoption, confirming that they will get the pet spayed/neutered by a certain date. We will hold a $50 deposit on top of the adoption fee until we receive proof from a veterinarian that the dog was spayed/neutered. The $50 deposit will then be returned to the adopter.​
Other Pictures of C211 litter Joey (click to see larger version):
| | |
| --- | --- |
| 3217.8k | 2375.3k |